Pony Express - USA
Itinerary
USA / America
Harley-Davidson Motorcycle Tours
Pony Express - 12 Days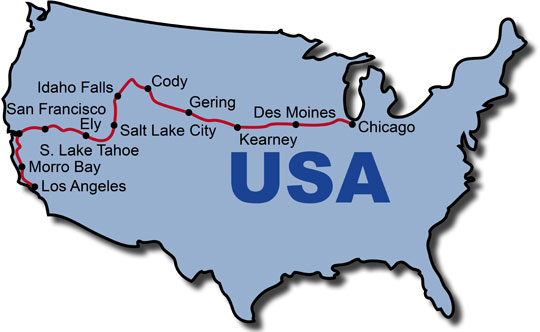 Route:
Los Angeles - Morro Bay - San Francisco -
South Lake Tahoe - Ely - Salt Lake City - Idaho Falls -
Cody - Gering - Kearney - Des Moines - Chicago












Wednesday, Day 1
Los Angeles
Welcome to Los Angeles. Transfer to your hotel, Welcome Drink and Dinner in the evening.

Thursday, Day 2
Los Angeles - Morro Bay
Collecting Harley-Davidson Motorycles from the rental office, starting trip north along Highway 1, Malibu, Santa Barbara and Solvang, the Danish capital.

Friday, Day 3
Morro Bay - San Francisco
Pacific Ocean on the left, majestic Santa Lucia mountains on the right, Big Sur or 'El Sur Grande', Point Pinos Lighthouse, Monterey Bay.

Saturday, Day 4
San Francisco - South Lake Tahoe
Golden Gate Bridge photo stop, passing Sacramento, Eldorado National Forest, South Lake Tahoe and the California - Nevada State Line, world-class casinos.

Sunday, Day 5
South Lake Tahoe - Ely
Toiyabe National Forest, Genoa - the oldest permanent settlement in Nevada, Carson City, Austin, Highway 50 - the loneliest road in the USA.

Monday, Day 6
Ely - Salt Lake City
Salt Lake Desert, Mormon Capital Salt Lake City.

Tuesday, Day 7
Salt Lake City - Idaho Falls
Visit Idaho Water Falls, relaxing for the next day.

Wednesday, Day 8
Idaho Falls - Cody
Yellow Stone National Park, overnight stay in the Western Town of Cody.

Thursday, Day 9
Cody - Gering
Devil's Half Acre, Fort Casper.

Friday, Day 10
Gering - Kearney
Scotts Bluff, Chimney Rock National Park, Pony Express Station Gothenburg.

Saturday, Day 11
Kearney - Des Moines
Fort Kearney.

Sunday, Day 12
Des Moines - Chicago
Last "day on the road", Drop Off Harley-Davidson Motorcycles, Farewell Dinner.

Join us for this Reuthers Dreamtour from Los Angeles to Chicago and learn more about the historic Pony Express Trail.
Views: 966
Travellers Lounge
Join the lounge to connect with other travellers going on this tour
Join the lounge
This tour hasn't been reviewed yet. Be the first by clicking below...